THE JOURNEY THUS FAR
IXIAH (pronounced ex'sy' ah') is a brand built around the ethos of thoughtful, timeless design that is effortlessly unique.
A brand that is dedicated to the authentic soul, we welcome you into our family in hope that you share our love for slowly produced, culturally inspired and hand-crafted designs. Every style is created from a sketch, every bead is hand placed and every print is our own. Celebrate re-defining beauty into the new-age with IXIAH.
Established in 2012 and born from the creative mind of designer Krystel Davis - English, IXIAH has challenged the tapestry of the fashion scene by abandoning trend driven design. Instead, Krystel draws upon her own sense of style to bring forth collections of intricately embellished, neo - tribal garments for the wild - woman within. A true creative at heart, Krystel is a self taught designer with extensive experience in creative design, illustration and art direction. IXIAH is an expression of Krystel's spectrum of talents, driven by her desire to create bold and distinct apparel for every woman.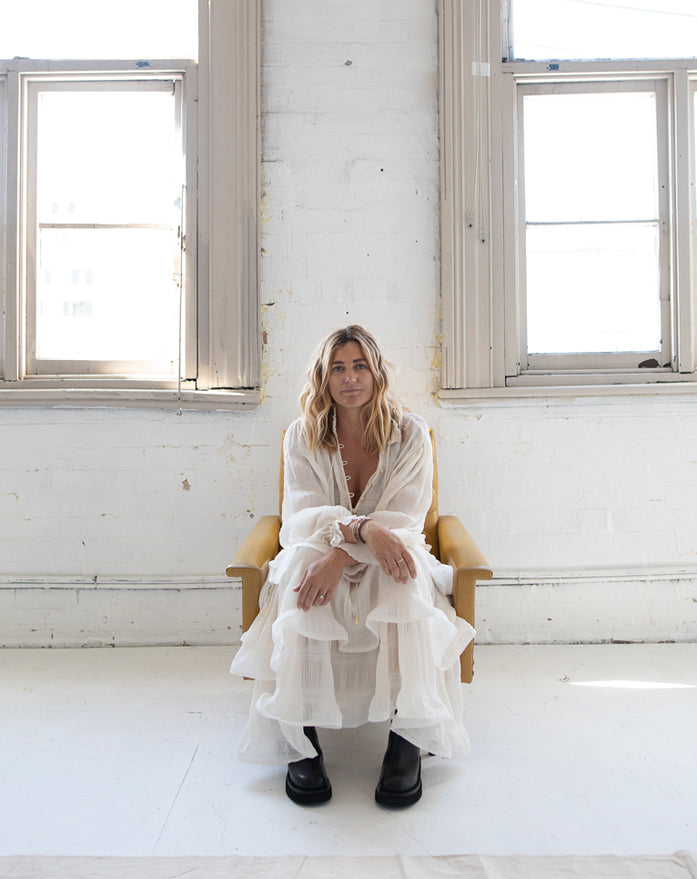 DESIGN INSPIRATION + NAME
The IXIAH name/title was inspired by a unique floral, emblazoned with sword-like leaves, and star-shaped blooms, this native African floral is representative of Krystel's individual approach to design, which balances the masculine with the feminine through shape and form.
The brand name is derived from the Greek word 'ixias' which translates into having chameleon characteristics, an idea captured by IXIAH in an industry embedded in the very idea of 'changing skins'.
Through clever melding of these details, IXIAH was born. A name and a label, without any prior connotations - allowing the designs and the wearer to define the meaning of the word.
VISION
"The IXIAH vision is to continuously grow and evolve through innovative and creative design, and to challenge the status quo in the conventional fashion scene. To curate a label that is unlike any other, with the intent to foster a global kinship through involvement in community and charity."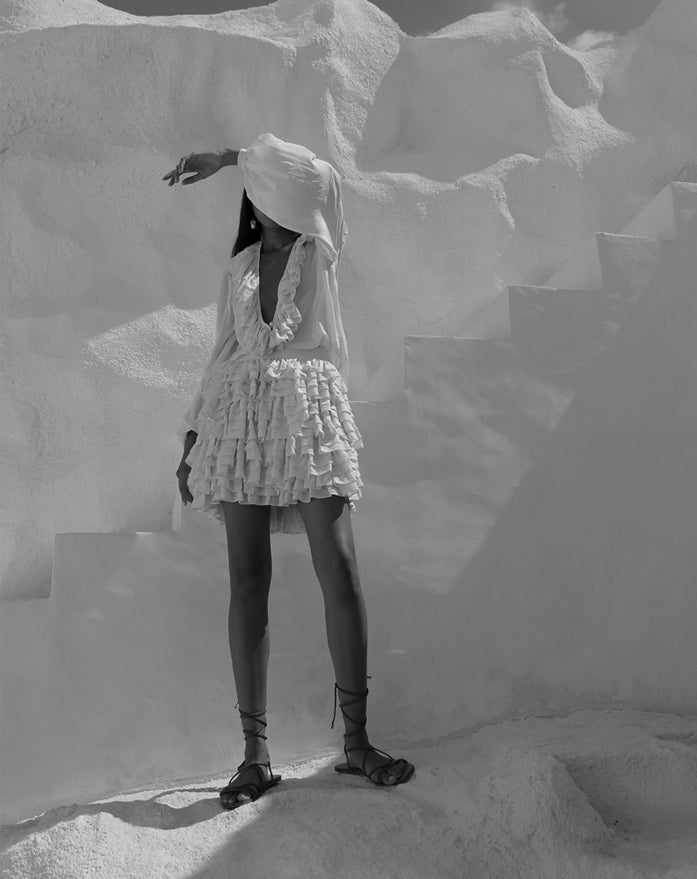 OUR SUSTAINABLE JOURNEY
It is important that our precious IXIAH community know that beautiful clothing shouldn't cost the earth nor should it exploit makers. We build long-term relationships with our global partners and ensure they abide by a strict code of conduct and health and safety procedures.

In an effort to be a slow fashion brand we make the conscious decision to use as many natural resources as possible and ensure there is minimal waste, energy and water usage during production.
We are forever learning and finding new ways to make positive changes. To be involved with our journey, when purchasing one of our goodies if a button or bead loosens, repair it, if your denim wears out, let them age beautifully. Our pieces are made to be raw and sustain the test of time so treat them with care.
BRAND ETHOS
Our mission is to continue to be transparent, create timeless styles while actively being sustainable and socially responsible. We are committed to continuously educating ourselves and improving upon our personal practices surrounding sustainable production and consumption. We pledge to act with honesty and transparency, in every aspect of our design and production.
RESPONSIBILITY
We are open to acknowledge that calling ourselves entirely sustainable would not be realistic, we do take a design approach whereby our pieces do outlast the trends and seasons. We know that wasteful, fast fashion is toxic for our environment. And for you – our customers – the benefits of producing less means it keeps our pieces exclusive to you. We also continuously work to produce using naturally sourced fibres that are regenerative and as gentle on the environment as possible.
We continue to build long-term relationships with our global partners and ensure we only work with ethical factories and suppliers. We ensure all our products are made by well skilled and high paid makers, our factories abide by a strict code of conduct with health and safety procedures, fair working hours and never involve child labour. We choose to not cut any corners at all costs and only produce clothing that stands the test of time with minimum stock production to ensure every piece is exclusive.
DIVERSITY
We are committed to building a culture, both within our company that promotes inclusion and celebrates diverse perspectives and voices. We condemn racism in all its forms and are committed to creating an environment that is supportive, respectful and encouraging, and values uniqueness and creativity in all its forms.
IXIAH supports and advocates all races, ages, gender identities and sexual orientations. We continue to listen, to learn and to take meaningful action so we can build on our diversity in order to advance equality and inclusion.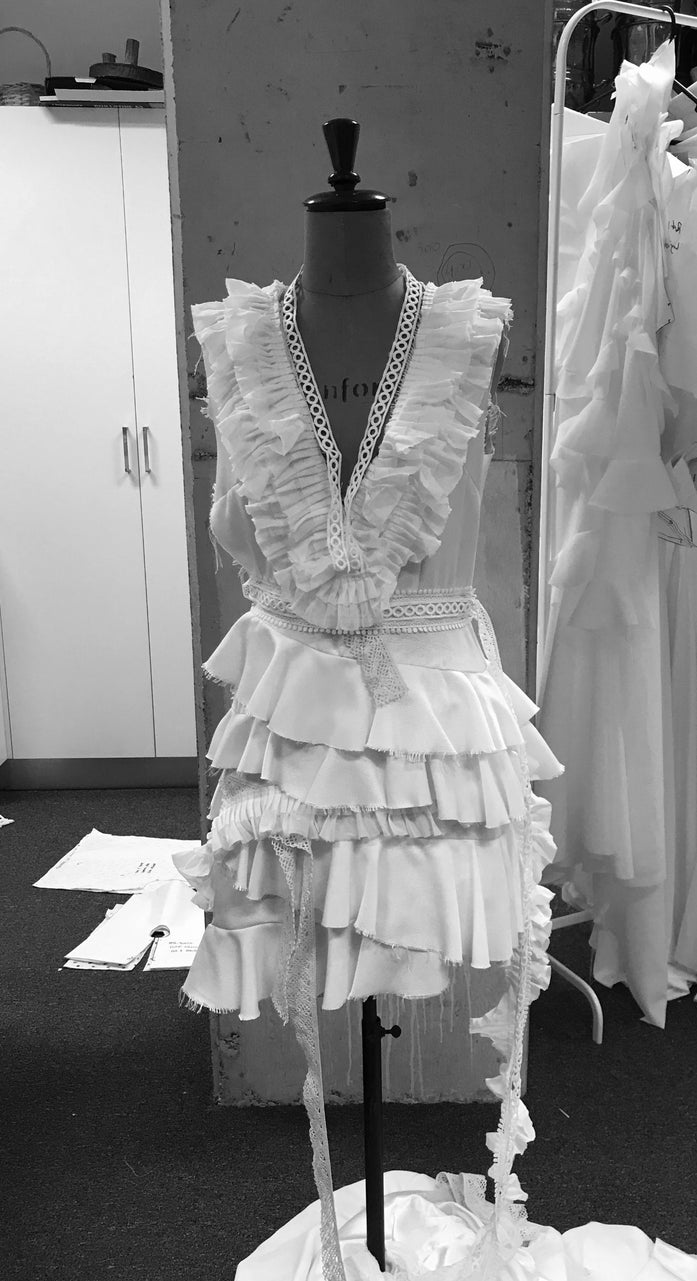 ACKNOWLEDGEMENT
Recognizing the traditional owners and custodians of the land.
IXIAH wishes to acknowledge the Traditional Custodians of the land in which we work and gather. We understand they have walked upon and cared for this land for thousands of years.
We pay respect to Elders - past, present and emerging - and we recognise the continued deep spiritual connection and relationship of Aboriginal and Torres Straight Islander peoples to the land, water and community, with knowledge and stories that have been handed down since time immemorial.
Our store and head office in Australia is situated on the traditional lands of the Eora Nation.
CHARITY
IXIAH works with a variety of charity partners to do our part at giving back to vulnerable communities. We are honoured to have long standing relationships with these organisations and have ongoing projects with each of them. In April this 2022 we decided to donate $1 of every purchase to a charity that alined with IXIAH's ethos; to protect people & Planet. This year we have been working with Thread Together. 
THREAD TOGETHER
$1 OF EVERY PURCHASE IS DONATED TO THREAD TOGETHER (April, 2022 to current)
We are honoured to be in partnership with Thread Together an initiative that distributes clothing to people in need through their national network of charities and social service agencies as a way to reduce fashion/ textile wastage, but also give back to vulnerable communities. 

DISCOVER MORE --->
ROYAL WOMENS HOSPITAL FOUNDATION
Each Mothers Day the IXIAH team spends the day in Sydney Royal Women's Hostpials NICU unit in partnership with the the Royal Women Foundation. To support those who might be finding tough on Mothers Day. We work closely with other brand partners to gift packs to the Unit.
RONDANLD MCDONALD
IXIAH Co-Founder and Creative Director has picked this charity to support as the RMHC has very special place in her heart. After her sister was in a tremendous car accident at the age of 6 she suffered brain damage and was induced into a coma for 3 weeks. Krystel and her family lived at the Ronald McDonald House for 6 months so they where able to visit the hospital regularly.